Canadian real estate markets just experienced a shock, but another is on the way. BMO recently told investors they expect mortgage pre-approvals are propping up markets. Much of today's home sales fail to reflect current mortgage rates, since many secured their interest costs months ago. The erosion in buying power will deliver another shock in the coming months, warned the bank.
Canadian Real Estate Mortgage Pre-Approvals & The Market
When a borrower applies for a mortgage, they obtain something called a pre-approval. These allow the borrower to secure a rate while they shop for a home. Typically this gives buyers 90 to 120 days of interest rate protection. It's a lot more practical for buyers to not have their purchasing power fluctuate day to day.
It is odd for interest rates to climb this fast, making this a weird situation. Mortgage comparison site Ratehub data shows the average 5-year fixed was 3.59% back in June. That means these borrowers with a pre-approval have until October to buy at their secured rate. A borrower in this situation has a nearly 1 point discount and limited time to use it.
Canada's Real Estate Buyers Are Still Motivated By Pre-Approvals
BMO argues this provides a sort of buying cliff, where sales are still motivated at lower rates. Buyers with pre-approvals debate if their interest costs will rise more than prices fall. Home prices are falling, but they might be falling even faster without pre-approvals. When there's an expiration date on your mortgage, you may value speed of execution over value.
"At this precise moment, it's a bit of a unique situation where many potential buyers have pre-approvals in hand from before the big wave of BoC tightening, while also looking at 10%-to-20% discounts on home prices," explained Robert Kavcic, a senior economist at the bank. 
He adds, "If you can buy at a discount with a mortgage rate that no longer exists, it could be enticing." 
An "Enormous" Shock Still Awaits Canadian Real Estate
Current buyers don't fully reflect the impact of financing on liquidity. As a result, BMO told investors they expect a further shock, using Ontario to illustrate its point.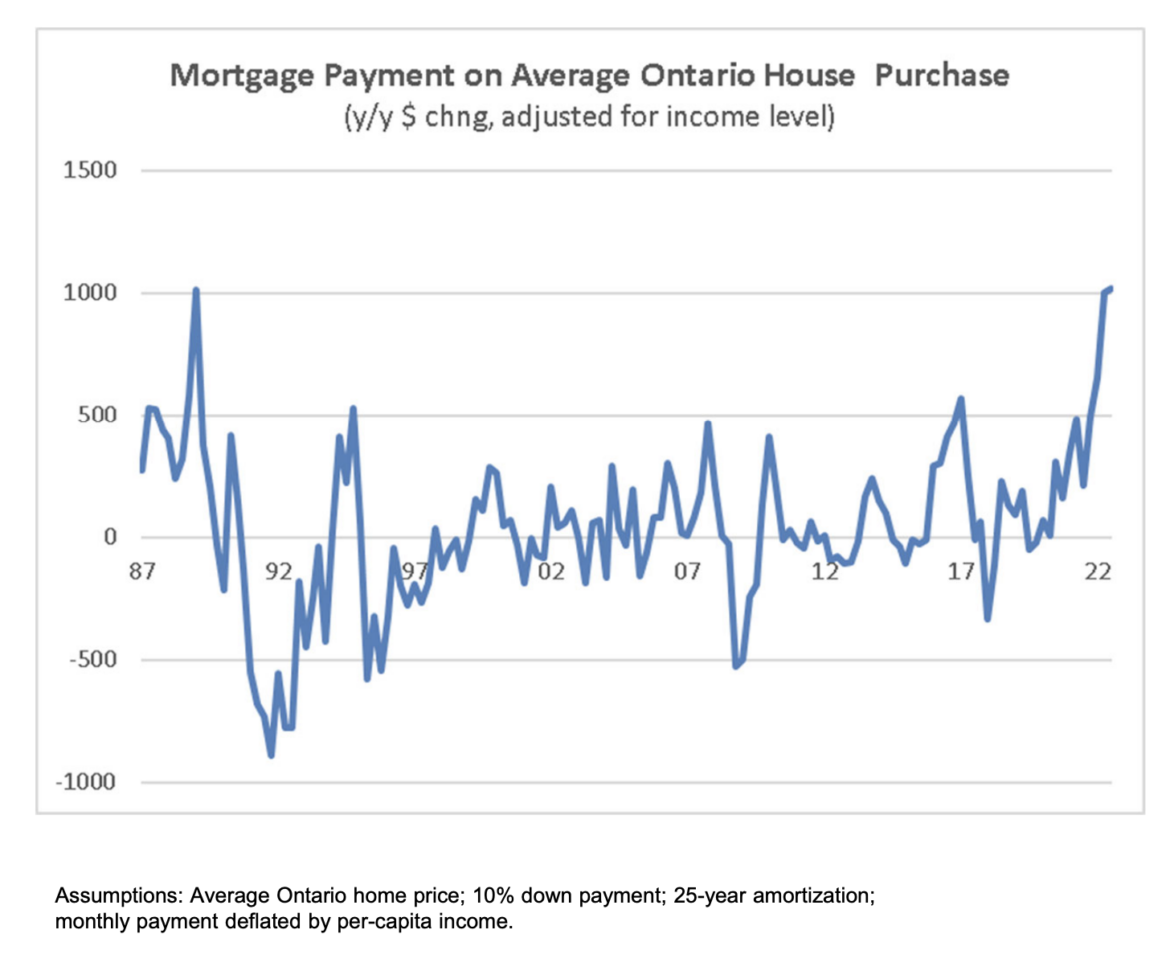 "… the bigger picture is that there is still an enormous interest rate shock to absorb. From an affordability perspective, the one-year increase in the carrying cost on an average home purchase in Ontario has only been rivaled in the late-1980s (and this incorporates already-lower prices)," explained Kavcic. 
That point might be crystal clear to the industry. However, he clarifies for the average person, "In other words, this is the sharpest tightening of housing conditions in a generation, and it will come with further adjustment…"